Jack's profile
Subscriptions
Blog subscription
Use the button above to subscribe or unsubscribe to the blog. This will notify you when new blog posts appear.
Blog post subscriptions

You may have seen me contributing on Basecamp with opportunities for ventures to enter accelerator programs. This forms part of Project Everest's strategic direction in realising successful ventures- the top half of the carrot. If you have no idea what the carrot is refer to the short video on the front page of our website.
There was a young entrepreneur in the 1860's who entered into the oil game when it was just starting out. Instead of competing in exploration where lots of people were becoming incredibly wealthy overnight he went into an adjacent but key area; refinery. His attention to detail led him to be very successful at this involved process and, with external backers, in 1870 he incorporated the Standard Oil Company. His laser like focus on one small part of the oil business initially enabled him to dominate refinery and in time he monopolised the entire industry and became the richest person in history. Mobil Exxon, Chevron, BP are some of the companies resulting from his work. This is of course John D. Rockefeller, someone we can learn from not for his environmental impact, but rather, in creating tremendous focus and ultimate business success.
In aiming to solve social issues through business the challenge can very much become focus. The extent of the Sustainable Development Goals combined with the breadth of countries and populations within the targeted demographic (4 billion people) is akin to the oil exploration game- the opportunities are endless. How we seek to focus considering this is to concentrate on one stage of the process. Project Everest strategically is seeking to own the space of creating social enterprise start-ups and getting them from 0 to 1.
What this looks like is successfully walking through the Design Thinking process to gain product market fit and then progressing through the Business Model Canvas and Lean start-up to experiment and learn in order to prove the business model. Once an enterprise has proven traction and a solid team can be built around it the venture must 'graduate' from Project Everest and into the realms of external accelerators, incubators, grants and direct venture capital. This is where it goes from 1 to ∞.
This is already in action with FarmEd earning a pitch opportunity at the SEFA & Macquarie Bank Kickstarter Program as the latest development. Project Everest is engaged with Investible on funnelling ventures through their Angel investment program. On 10 August, the ventures here will have the chance to pitch to VCs, advisers and mentors from Rough Diamonds. Rough Diamonds seeks very early stage businesses for which University students can execute on. Successful ventures will have the chance to enter their accelerator program over 6 months alongside investment. They will also seek to develop the most advantageous student generated team around it.
In conclusion, externalising the acceleration of ventures is a key part of the strategic direction Project Everest is taking as it moves to drive focus on the creation of ventures out of projects. The top half of the carrot. Building a strong process to develop socially focused enterprises from 0 to 1 is where we seek to be the best in the world. In this way, we can maintain the breadth of the challenge across the SDGs but remained focus on our role in solving them.
Any thoughts, challenges or improvements on this I would greatly appreciate.

This December, a team of 9 Trekkers began the Empathy and define stages of the Plastics for Purpose project in Cambodia. They empathised to develope a fundamental understanding of the the people of Siem Reap, their daily lives and how they interact with plastic and plastic waste. In addition to this, the team undertook data collection to verify and substantiate these identified issues within the Siem Reap province.
Discussion was then had about what the defined plastic waste management issues actually are, all ideas being substantiated by this preliminary empathising and data collection. The four key issues were identified as:
The inefficient and ineffective existing systems for plastic waste management,
The excessive use of single use plastic products,
The pronounced divide between urban and rural areas in relation to waste management, and
The paucity of financial incentives for sustainable plastic waste management.
These culminate to form the team's problems statement. 
"How might we create financial incentive for the city and rural people of Siem Reap to dispose of their plastic waste responsibly in order to navigate the piecemeal and unsustainable landscape of existing half solutions?"
To the teams coming who will ideate based on the findings of the assessment projects, remember that only 1 in 10 startups succeed. Do not let this dishearten you, let it inspire you. As arguably one of the world's first Social Entrepreneurs, Florence Nightingale, puts it: "Rather, ten times, die in the surf, heralding the way to a new world, than stand idly on the shore."
Venture on.

"If I have seen further, it is by standing on the shoulders of giants." - Isaac Newton, 1676
(though earliest records attribute the concept to Bernard de Chartres).


Given the necessity for social enterprise as the future of impact when it comes to international development, I think it is important to clarify what this means for NGOs, and our interactions with them.
To be clear, Project Everest does not exist because no good work has been done in this space; rather, it exists because there was no way to guarantee good work would continue to be forthcoming. Sustainability, scale, and interest vs. impact are three of the weaknesses inherent to charity that we cover in our core story, so it is not surprising that people sometimes come away with the view "social enterprise good, charity bad".
A more accurate appraisal would be "charity good, social enterprise better in the long run".
Charities such as Red Cross do incredible work, and are responsible for a significant amount of impact. There is no nobility or moral superiority gained by refusing to acknowledge this simply because they went about it in an unsustainable manner.
As such, the most efficient way for projects to operate is to use NGOs wherever possible to dodge major road blocks. They have all laid incredible ground work with communities, have extensive databanks of test results, and some will have contact lists bigger than all our handovers combined. Part of the problem we are trying to solve is that much of their collective impact has been knee-capped, because they have all individually started from scratch. 
There is no need for Project Everest to fall into this same trap.
Two short examples to substantiate the above, both taken from December's Water Assessment:
Water Test Results: the team was able to source significant water quality results despite lacking a lab, test kits, or sufficient chemical knowledge. Simply because they called some NGOs and asked.
Community Entry: the team spent 3 weeks trying to arrange rural visits to no avail. Their breakthrough came when an NGO offered to facilitate a community meeting, providing free translation and unfettered access to an enormous commune.
Ultimately, we should be building on the work of these NGOs and translating it into sustainable solutions. The NGOs are the metaphorical giants, though there is nothing metaphorical about the size of their giant budgets.
Stand on their shoulders, or risk being forever overshadowed.
- Alex Martin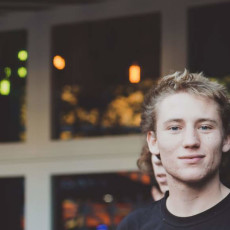 Jack Bennett
Wollongong, Australia
Joined this community on Dec 31, 2016


Bio 4th year Mathematics and Statistics Student at UOW; Led once in Timor-Leste on a Water Assessment Project, and once in Cambodia on a Plastics For Purpose project; Senior Leader in Cambodia for 1 month; PEV Recruitment for 2.5 years.
University or Company
UOW
Degree or Work area
Other
Country you Trekked/are Trekking in
Uganda