Andrew's profile
Subscriptions
Blog subscription
Use the button above to subscribe or unsubscribe to the blog. This will notify you when new blog posts appear.
Blog post subscriptions

I want to start this post by saying this project is an oversight. An oversight that we haven't run something like this a long time ago. The nature of this project coming into play is almost unintentional and that is the craziest thing about this. It shouldn't have been unintentional.
There is absolutely no question at all by anyone you speak to in the office, within our leadership cohort, or otherwise, as to the importance of a project like this. 
Biannually, we run a leadership training that is for those committed to pursuing the challenge and journey of leadership, of social enterprise and of going back to work in a space filled with inspirational, motivated, intelligent and wonderful people. This year, we trained 48 young Australians, Mexicans, British, Germans, Indians and countless other nationalities. This presented us with a wonderful problem, what project topics do we give them to work on over our training period? We had eight teams and we only really work in seven areas in our work overseas.
A few of our senior leaders thought up the option of using sanitation as project topic, the idea flew under the radar and it wasn't brought to my attention until it was too late to reverse the decision. I will be honest, I didn't see how we could apply social enterprise concepts to female sanitation. Reluctantly, the topic went ahead and over the week I saw one of the most incredible project ideas we've ever seen come through our training environment evolve into being. The team were so passionate, they treated the topic of menstruation, periods, reusable pads as they would anything else and blew everyone else away. 
I walked away from our leadership training inspired and determined that this is was something that we have an obligation to try and make happen. My plan that we would run it in India at the end of the year...
What especially motivated me was when I realised how significant this topic was in enabling girls and women to go to school, continue tertiary education, maintain a job and be respected ALL days of the month. How can we talk about social enterprise, impact, empowering communities and individuals if half of the population in India or Africa won't leave the house for roughly a week a month? 
Project Everest was hosting a Sydney University Business School Case Competition, the top three teams came to our office to present their work and their ideas on the major social issues in India. Last minute, one of the three teams pulled out and left two. The winning team had presented some amazing work on the importance of sanitation in India and the opportunities it looked to achieve through something as simple as ensuring women and girls could safely and confidently engage with the world during menstruation.
That was it, we had seen this topic pop up enough in the space of two weeks that it couldn't be ignored. With the support of our project development team and the women in the office, we wrote the initial brief and made space to run this project in Malawi this July. Record turn around time!
So, to the point of the post, the three reasons why it is our duty to ensure female hygiene and sanitation is a project focus at Project Everest:
1. Half the population in developing communities are made to feel like leaving the house 25% of the time is inappropriate or doesn't have the means to practically do so. This impacts girl's and women's ability to go to school, maintain a job and sets bad habits for the rest of their life. Could you imagine completing your university degree if you were absent every 4th week?
2. Women and girls often have no choice other than to rely on men to provide them with sanitation resources. This can result in limited access, over-reliance on males, unsafe sex, unwanted teen pregnancy and early marriage, affecting education and work opportunities.
3. 70% of reproductive diseases in females in the developing context are the result of poor sanitation practices due to costly or non-existent resources and little to no education of the importance of female hygiene. Women may resort to plastic, leaves, newspaper, rags or corn husks as a means to manage menstruation. 
Imagine reusable sanitation products, good for female health, the environment and ensuring equal opportunities for all. This isn't a novel idea, in fact, it exists. What we need is a scalable model. A model where women are employed to manufacture sanitation products, to be distributed by a semi-informal female network, allowing education, employment and empowerment. 
Want to know more? See our plan for starting this project here: https://projecteverest.crowdicity.com/post/1382740

Coming out of summer, we have had some fantastic achievements across countries and projects. Naturally, we've also encountered multiple roadblocks. One of the projects that experienced particular difficulties was Everest Recycling Solutions in Cambodia. 
Our work there was looking to improve waste management services with a focus on recyclable materials, such as plastics, cardboard, metals and even glass. For a period of time, we had a workable model that allowed us to provide waste collection services to a large portion of our area of operation who were not able to be serviced by the main provider. The main provider within the area is well established in the recycling of plastics, metals and cardboard and we were having troubles with impeding on areas they already service (it doesn't make sense for overlap when there is already so much unserviced). 
In the attempt to implement our waste collection service, errors were made by Project Everest in terms of what was communicated and where we worked, errors that are in no way critical, but a reminder of the importance of our decisions on the ground – something we as an organisation will own and take full responsibility for. 
Towards the end of summer, our focus turned to glass, and either washing to reuse in breweries or to crush and use as an aggregate in construction materials. The problems associated with this approach include the capped price of bottle collection (2c/bottle), the lack of capital infrastructure to process the bottles, the cost of labour, a location to store the bottles and the cost of transport. Additional to this, we were required to process 100,000 bottles/week, minimum, to gain a strategic business partner. 
These challenges are too great, now, to justify continuing ERS in the short-term. 
Instead, we require resources to do work back here in Australia. Our focus will be to manage relationships with key stakeholders, overcome red-tape and create a more financially viable business model before we can return with a viable direction. 
Please note, if you have worked on ERS Cambodia, your efforts were by no means a waste (pun-intended). This has raised our awareness of the region, the opportunities that may exist in the near future and how much impact each action can make, especially in tight-knit areas. We fully intend to resume projects in Cambodia, when we are in a better position to implement a viable business that promises to deliver impact in line with our social enterprise definition. 
As always, our phone lines and office doors are open to talking to anyone who is particularly concerned about this and we're happy to talk it through in more depth. 
- Andrew Vild, Project Everest Ventures

For those who have been on Project Everest or even those who are planning to come this summer and have been through our interview process, you know that we live by our values. Whenever we make a decision, we make it in line with the values. Why? Because whether it is Bob (Trekker), Jane (Team Leader), Sam (Group Leader) or George (Core Staff Member) making the decision, the outcome should be more or less the same if they use the values as guidance.
One of those values, Make The Hard Decisions – Always, as suggested in the name, is one of the hardest values to constantly live by. It also means that some of the decisions we make aren't always popular, at least initially.
After completing July operations across 5 countries, our EIGHTH month of in-country operation, we had to have a hard look at our projects, new and old. We needed to look at several factors:
-         How far projects have progressed in their lifetime?
-         What community value and social benefit do they offer?
-         What community drawbacks or social detriment could occur?
-         What barriers to business within a country exist? (in terms of government legislation, registering as a business, competition in the space – from both NGOs, government and businesses).
-         What resources does the project require to ensure success (human, financial and physical resources)?
There are of course many smaller factors, but the above is the gist.
In line with the response to those factors, we have made the hard decision to discontinue several projects. Remember that only 1/10 businesses survive their first 1-2 years of operation. A good entrepreneur needs to be optimistic and push past barriers, but also cannot ignore feedback or signs that the odds are against the business idea. Fortune reported the "top reason" that startups fail: "They make products no one wants." A careful survey of failed startups determined that 42% of them identified the "lack of a market need for their product" as the single biggest reason for their failure.
If you're going to spend your time making a product, then spend your time making sure it's the right product for the right market.
This doesn't mean they are gone, dead, finished and never to be considered again. They are simply not viable in that location in this point in time due to the circumstances on the ground or the resources we have available to us to move forward.
Discontinued projects:
WISI (Water Infrastructure Sustainability Initiative) – Timor-Leste
Energy Assessment – Cambodia
Health Assessment – Cambodia
Agriculture Assessment – Vietnam
Water Assessment – Vietnam
Projects we were planning to run and have decided not to:
Social Consulting – Cambodia
Social Consulting – Timor-Leste
Social Consulting – Malawi
Health Assessment – Fiji
Reasoning
WISI (Timor) –
The water infrastructure team over July hit several large roadblocks in their pursuit of providing insurance for parts and water infrastructure in the greater Dili region. An excerpt of the WISI July 2017 team's handover best explains their self-identified reasoning for discontinuing the project, of which I recommend you read the full handover on Crowdicity.
"In Theory, Theory and Practice are the Same Thing...
The July 2017 team sees the value in the idea behind WISI Insurance. The concept of being able to make a monthly payment and then make a claim to get household water infrastructure fixed when it breaks, is something that the team felt was a viable and sustainable way of meeting the #6 UN Sustainable Development goal.
...In Practice, they are Not
When the team went to practically implement the insurance model within Timor there were several challenges that were found that ultimately resulted in the decision that is was no longer viable pursue the insurance model.
The customer is always right
When in Timor, it is easy to lull yourself into believing that what you see at your accommodation is the standard for residents in Dili. Sadly, residents of Dili, in general, lack simple water infrastructure. In the surveyed areas (Santa Cruz and Motael), it is commonplace to have only a single collection point that fills up a large container or bath. This water is then used for bathing, drinking, cleaning etc. Since our scheme focused on insuring against breakages of household water infrastructure (toilets, showers, pipes etc), the team realised our customer base was not as we expected. This led us to an ultimatum; do we look to insure against different infrastructure (for example, common electric pumps), or find an area within Dili that does have common household infrastructure? This was not the only major issue we were facing at the time.
It's Not Your Average Licence
In addition to confirming our consumer base, the team also ran into trouble regarding the business operation. While consulting with our legal advisor Christine (of CC Business Solutions), we were made aware that gaining an insurance licence is very difficult. These licences are issued by Banco Central (the central bank), who requires a large amount of capital investment and legitimacy. Most insurance providers are backed by a much larger capital provider (such as Western Union) and have operated overseas for many years. Even for these companies, the least time taken to gain a licence was 2 years. Many have tried for over 5 years with no success. The team agreed this was too long-a-period to invest on a project that still has not confirmed its consumer base."
Energy and health assessments (Cambodia) –
The findings for Energy and Health were both good, but the market need and opportunities were limited. Cambodia as a whole is a very difficult country, as there is a saturation of NGOs with budgets of millions of dollars to provide services for free. We have been in Cambodia since January 2016 without major success, our focus needs to be bringing the high potential projects, ERS and FarmEd, to fruition and ensuring it has the resources it needs. Once we have done so successfully, we can consider new or assessment-based projects to branch out and piggy-back off the success of the more established ventures.
Vietnam -
The assessments conducted in July lead us to believe that there is a lack of perceived need for the community, a difficulty in a socialist environment with restrictions around business set up, and the difficulty of operating in a CBD. Urban operations is something we have limited experience in and have a lot more complications than first thought. Eg. A suggestion moving forward is aquaponics in the CBD. The aim to provide food to the urban population, however, this would compete with the lower classes who have micro-enterprises with household farms or transport food in from the rural areas.
To move out rural would require us to go further than one hour out of the city and thus outside of our safety tolerance of being within an hour from a reputable hospital.
Operating in Vietnam also draws experienced personnel resources away from other countries with established and high potential ventures, and our priority is making them successful.
Projects we were planning to run and have decided not to –
for similar reasoning as the above, our priority of human, trekker, financial and physical resources is focused on the projects with the most potential and that need the most attention. Starting new projects takes a lot of training of our personnel and resources. Again, this doesn't mean they will never be run, it is just not the best use of our resources at this point in time. We also don't want to run projects for the sake of running projects, in line with our number one priority being the well being and service to the communities we operate in.
For those who have worked on a discontinued project
Please know that your work and contributions have not been in vain. Your work may be utilised in future when we are in a better position to continue that line of work and/or it has increased our understanding of the situation on the ground in that focus area and/or has eliminated a sphere in which we can work. All of which has contributed to our positive relationships and presence in the area, as well as built great leaders who have returned with us to make other amazing work happen.
Discontinued Projects Update Session
We will be running a few sessions to allow people who are invested in understanding this further and having their thoughts and opinions heard on the relevant project fields.
The project times and dates are as follows. For those who cannot physically make it, we will have the option to join on Google Hangouts: https://hangouts.google.com/hangouts/_/projecteverest.ventures/andrew-vild?authuser=1:
WISI (Timor-Leste) - 1000-1045 23/08/2017
Health and Energy Assessments (Cambodia) - 10.45-11.15 23/08/2017
Vietnam Operations - 11.15-12.00 23/08/2017
Projects we were planning to run and have decided not to (focus on future Trekkers who have been displaced) - 12.00-12.45 23/08/2017

Welcome to be the Project Everest Base Camp!
As Project Everest's head of Research and Development, I'm incredibly excited to be welcoming Trekkers, Team Leaders, Group Leaders, alumni and staff to what will hopefully be a platform where we can discuss, collaborate and further develop the Project Everest projects into thriving, scalable and, most importantly, socially beneficial ventures.
In this inaugural post, I'll attempt to outline the vision behind this platform, the manner in which I see Project Everest Trekkers, Team Leaders, Group Leaders, alumni and staff interacting with and contributing to this platform, and I'll also provide some commentary regarding the current state of the platform.
For some time, Project Everest has had issues with the exchange of information between teams and alumni who have worked on our projects. We've relied on static handover documents, which up until recently, have lacked a consistent structure.
This has decreased productivity on projects, left some teams "in the dark" for days at a time, and has meant that teams have had to wade through the Project Everest Research and Development GoogleDrive in order to find the appropriate handover documents. 
There have also been barriers to alumni contributing to the continued development of ventures in that, if teams sought out the advice of past Trekkers and Team Leaders, the only means of communiation available were cumbersome and weren't intended to scale.
In sum: we've been using a sub par solution.
With the Project Everest Base Camp, powered by Crowdicity, we now have a virtual work space to collaborate and build some incredible social enterprises. Alumni will especially be encouraged to provide commentary on new ideas posted by Trekkers throughout the course of their time in-country so ventures can benefit from their experience. 
Each prospective venture will be allocated a page within the "Challenges" space on the platform. To be clear, general assessment projects won't be found in here. The "Challenges" space is only for projects that have passed the "Define" stage of the Design Thinking process. Findings from "Empathise" and "Define" stage field assessments will, on the other hand, be found in the "Blog" section as a short, two-page report. 
Teams looking for advice on a given topic should head to the relevant Q&A section under "Challenges". This should provide an effective medium for different questions pertaining to specific areas to be asked and answered.
By exploring the platform, you'll all be able to see ways in which you can interact with challenges, submit new ideas, and collaborate on the development of what will hopefully immensley successful social businesses. 
Currently there are some last minute updates being made throughout the platform by Team Leaders, Group Leaders and myself. These include venture descriptions, handover reports, and blogs written for handover reports.
In the meantime, I'd ask that you follow the intent outlined in this blog post when interacting and contributing to the platform so that we're all on the same page and can get started on making the most of this platform. 
Thanks for your continued dedication to Project Everest, our ventures and most importantly, our mission to solve the world's most pressing problems with the power of enterprise. 
All the best, 
Will Ashford.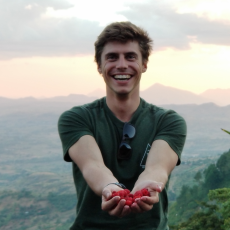 Andrew Vild
Sydney, Australia
Joined this community on Dec 20, 2016


Bio Head of Projects - PE Ventures A degree in Materials Engineering at the University of Wollongong and 5 years with BlueScope Steel have afforded me the superior problem-solving techniques required to manage large-scale Project operations and recruitment. I have lead teams in India, Uganda, Cambodia and Malawi and coordinated multiple Projects, responsible for all personnel involved. An infantry officer-in-training with the Royal Australian Army, I am deeply involved in ensuring the success of our Ventures, overseas and at home.
University or Company
UOW
Degree or Work area
Engineering
Country you Trekked/are Trekking in
Malawi